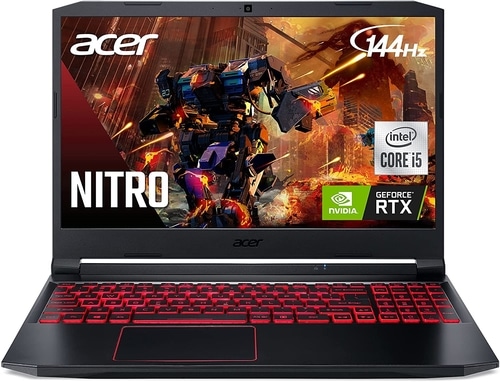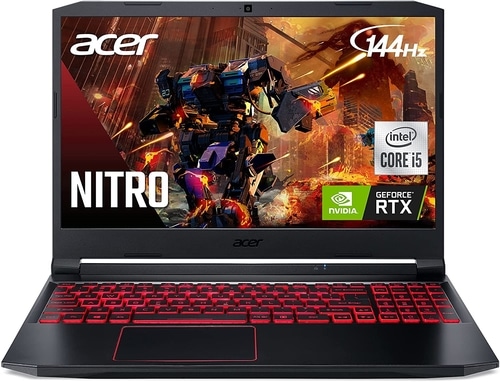 If you've been browsing for the best gaming laptops under 900, you've probably come across all sorts of different CPUs and GPUs combinations.
That's because a 900$ budget opens up a whole skew of new hardware (Ryzen 7s, Core i7s, 1660Ti, 2060RTX, 3050Ti on top of the usual Ryzen 5/Core i5+1650GTX found under 700$).
So if you've got a budget anywhere near 850-900$, you should be getting at LEAST a 2060RTX/1660Ti like GPU or even a 3050Ti.
Any of these GPUs (with any of the CPUs they come with) can output +100 framerates per second at ultra/epic settings in nearly every AAA franchise like Fortnite.
The latest and most popular GPU as of 2021, the 3060RTX, can output +100fps even in the most graphically demanding games like Call of Duty, Witcher 3, Final Fantasy, GTA, etc.  Unfortunately, this is rare under 900$ and more common under 1000$.
The best part is that…
Any of these GPUs (especially the 3060RTX) can output more or less as many framerates a 2070/3070/2080/3080RTX would and obviously at a much affordable price.
There's one more thing you should know….
A laptop around 900$ MUST come equipped with a 120/144Hz monitor, this isn't necessarily going to bump up your gaming but it's going to make everything look crispy and smooth because your hardware will actually be able to output +120FPS at high/epic settings.
Recommended Specs For Gaming Laptops Under 900
Anyways let's get down to what you CAN find under 900 and what you SHOULD/SHOULD NOT be getting with a budget under 900$ or around 900$.
GPU
1050Ti: You'll find a few of these under 900$ but you shouldn't pay anymore than 650$ for one. That's because…
1650: There are several models with a 1650GTX that cost anywhere from 680-720$. There are several models with this GPU above 800$ but they're not worth it unless they've got a 144Hz display.
1660Ti: You'd be better off investing on this puppy which is still popular after all these years and can now be found well under 900$. This is still relatively powerful and can still compete with its newest 2060/3060RTX  versions.
2060RTX: Despite from a new generation, this is only slightly faster than the 1660Ti. If you find it under 900$ , it may be worth it.
3060RTX: Before you pull the trigger on any of these GPUs, you should be searching high and low for a 3060RTX laptop under 900$. It is very unlikely unless you're willing to 950$ so don't be afraid to set for anything lower. A 3050Ti is just as fast as a 2060/1660Ti and definitely common under 900$.
GPUs found below 900$ you should stay away from if you want high/ultra settings: 940MX, MX150, MX230, MX250, MX350, 1050 (2GB), 1050(3GB),1050(4GB)  AMD Radeon 540.
CPU
If you're building a PC or you want to get more framerates from a laptop without having to spend serious amounts of money, I'd advice you not to invest on a more powerful GPU. Instead, try upgrading the CPU (or buying a laptop with a better CPU). A 3060RTX is as high as you should go, after that get a better CPU even a few Hz will make a difference in framerates massively.
Intel: Core i5 9300H, Core i5 10300, Core i5 11300H, Core i7-10750H, Core i7-11800H.
AMD: AMD Ryzen 5 3550H, AMD Ryzen 5 4600H, AMD Ryzen  5 5600H,  AMD Ryzen 7 3750H, AMD Ryzen 7 4800HS, AMD Ryzen 7 5800HS
You're most likely to be stuck with those CPUs in orange. However, out of these, you should be demanding at least a Core i5 10300H/AMD Ryzen 5 5600H. The purple ones/blue ones are only found above 900$.
RAM
8GB: 8GB RAM is standard for gaming and it's pretty common to find in any laptop above 500$.
16GB: 16GB is the current standard for gaming and although most AAA games won't benefit from it, a few will and 16GB should also provide some  headroom for other stuff running in the background. It's common to find 16GB above 800$, if you don't, don't sweat it, just do the upgrade later, should cost you 20 bucks.
Dual-Channeled:  When you add another RAM stick, make it dual-channeled. This means both sticks have to be of the same size/model. This will give your CPU a boost in processing speed.
Storage
Storage type isn't that important if we are talking about framerates and graphics quality. It may be boost speed slightly in open world games but that's about it. All laptops now come with SSDs so it doesn't matter anyways.
What matter is storage size, today's AAA games, can weight as much 120GB and 60-80GB on average.
512GB is pretty standard in this price range so make sure your laptop has that much too.
Display
IPS FHD: Virtuall all modern laptops around 900$ have a FHD and most an IPS panel. TN displays have slightly less vivid colors but they can be better for first person shooting games. 
120-144Hz: 120Hz/144Hz displays are pretty common in this bracket. Most of the time, however, getting a 120/144Hz display means you'll have to give up some GPU power.
There are about one hundred GAMING laptops under 900$. A lot of them have a value of 700$ and selling for 850$. 
This is why it's important to make a table to compare prices and hardware efficiently.
We've done that and we took out  those that were unnecessarily expensive and those with old CPU/GPUs or not enough storage size. The final list has about 10 laptops and the following five laptops are the best deals out of these. If you want to see the full list, it's right at the end.
Let's start with the best deal under 900$ right now.
---
1. Acer Nitro 5

Best Gaming Laptop Under 900 – 3050Ti RTX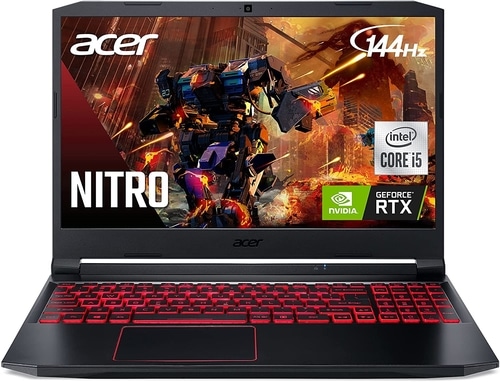 Core i5 10300H
  8GB DDR4
   GeForce RTX 3050Ti
  256GB PCIe SSD
  15 " 144Hz Full HD IPS

  5.07lbs
  3 hours

The "under 900$" budget is very tricky. 
If you browse around you'll find laptops with all the awesome specs we went over:
High Refresh Rates: 120-144Hz

High end GPU: 1660Ti/3050Ti/2060RTX

High end CPU: Ryzen 7/Core i5 10th/Core i7 10th

RAM: 16GB

SSD: 512GB NVMe
However… you'll always find only one or two models with ALL of these specs onboard.
A few months ago we posted the gateway creator with the 2060RTX and sure enough it was gone within a week. There no more models under 900$ with a 2060RTX and much less a 3060RTX.
However, not all hope is lost, NVIDIA has recently released the 3rd generation of RTX GPUs and it includes an entry level GPU : the 3050Ti.  The 3050Ti can easily hit +80fps at epic settings in most AAA games (see video below). There are several 3050Ti laptops but this is the only laptop that stays well below 900$.
---
2. HP Pavilion 16.1

Best Gaming Laptop Under 900 – 1660Ti
  Core i5 10300H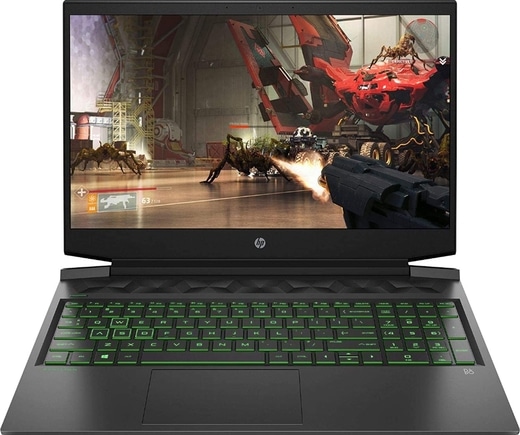 8GB DDR4 
   1660Ti 6GB vRAM
  512GB PCIe NVMe SSD + 32GB Optane
  16.1" 144Hz Full HD IPS

  5.07lbs
  5 hours
It may counterintuitive but the fact is that a 1660Ti, despite being 2 years old, is actually faster than a 3050Ti and in fact just as fast a 2060RTX. The 3060RTX is faster than the 1660 (~25% faster) but you will be very hard pressed to find in 2021 under 900$.
The 1660Ti, on the other hand, is usually found on laptops above 1000$ and despite the fact that it's 2 years old, manufacturers still accomodate a 1660Ti on several of their newest models and that's because it's still pretty powerful for gaming. We wanted to pick a model with a 1660Ti under 900$ but because of their high demand and popularity (and power), it is very difficult to find it under 900$ (though I've seen some models under 900$ on a few ocassions). 
This model sells for 950$ but it's got every spec you can demand from a 900-1000$ laptop including the storage, display and obviously a modern CPU too.
---
3.

ASUS TUF Gaming F17 
Best Gaming Laptop for LoL under 1000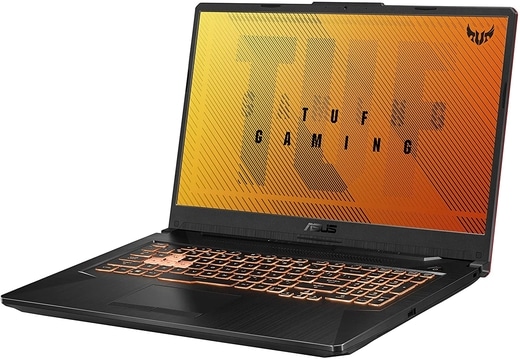 Core i5 10300H
  8GB DDR4
   GeForce GTX 1650Ti
  512GB PCIe SSD
  17" 144Hz Full HD

  5.73lbs
  5 hours

If you don't mind playing at high settings or you mostly play games like FortNite, WoW, OverWatch, CS:GO, Dota 2 and the kind of stuff that doesn't have spectacular graphics, then it might be better for you to invest on a 17" laptop than a 1660Ti or 3050Ti.
I personally find this a better choice because I'm not into the Witcher 3, Tomb Raider, Call of Duty,etc. If you are into those games, you should probably settle for a 15" laptop with at least a 3050Ti. Otherwise, things will get pretty hot and this laptop will not last long.
I know there are 1650GTX laptops for 720$ but the 17" does really add a LOT to the cost of manufacturing, in fact, it's going to be very difficult to find a 17" laptop regardless of what dedicated GPU it has, under 900$. This is one of the two models with not only a 17" display but a 144Hz refresh rate too.
You can get a sense of the game and the framerates I'm talking about in our video here, which has a Core i5 9300H+1650GTX (a generation older so you can expect +10 fps in every game).
---
4. MSI GF75 Thin Gaming Laptop 

 Best Gaming Laptop Under 900 w/ 144Hz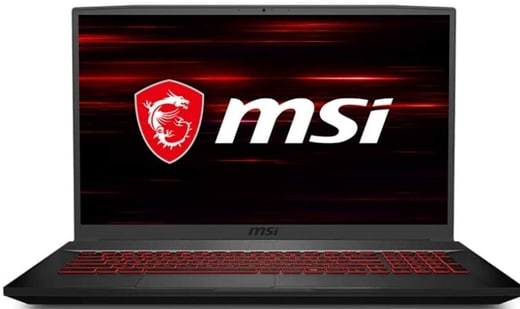 Core i5 10300H
  8GB DDR4
   GeForce GTX 1650 6GB vRAM
  512GB PCIe SSD
  15.6" 144Hz Full HD IPS

  7.33lb
  5 hours
This is the second option I was talking about if you want the best display you can get in this price range. It is 50$ more expensive (despite having the exact same specs) but if the ASUS is sold out, it will be your only other option.
---
5.

ASUS TUF Gaming F17 
Best Gaming Laptop for LoL under 1000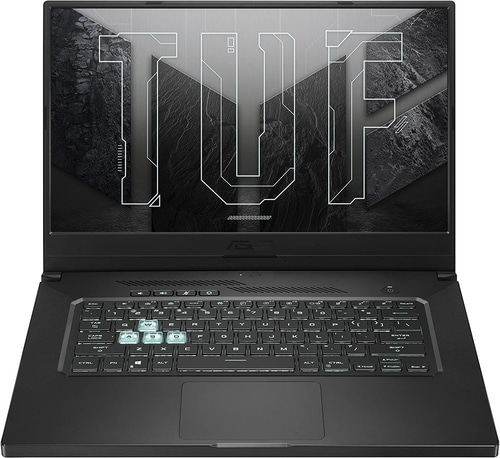 Core i7 11730H
  8GB DDR4
   RTX 3050Ti
  512GB PCIe SSD
  15" 144Hz Full HD

  4.41lbs
  5 hours

This last laptop is the most powerful on the list, not only that, in fact, it has an awesome display too. Unfortunately, it is slightly over 900$.  There are in fact, no other good models to show under 900$, unless we are talking about 1650GTX laptops in the 700-750$ range.
If you could squeeze 50$ more dollars though, you'll get one of the top 3 best CPUs for gaming in 2021. The 11th Core i7 is up there with the 5th generation Ryzen CPUs despite the huge disparity and superiority of AMD over the past year. Expect to hit +120FPS on epic settings, far more, than you would with a Core i5 10300H+3050Ti.
It is EXTREMELY lightweight for a laptop with this much power , so if you want to take it to work or school, it's not going to take a toll on you and it even looks kinda styilish, it's not going to be screaming "GAMER HERE" when you take it out of your bag.
---
Like we mentioned before, it's always best to just make a list of all laptops being sold online but that can be quite time consuming.
And even if you do that, it's always a good idea to double check.
In this section we'll show you how to estimate the price of a laptop. This will not be super accurate but if you use across several laptops, you can a good estimate which one is a great deal and which one is not.
Wait,  how do I get the prices of laptop parts?
Like in every best gaming laptop under XXX post, we are using the desktop prices for GPU/CPU when we can.
Using Storage/RAM prices as listed on amazon (on board and external types have two different prices and we'll take that into account).
As for display and the rest of the chasis/parts like the cords, we will use AliExpress/Ebay to get a good estimate.  Note that we've also consulted our IT guy to double check that these prices make sense.
GPU
Starting with the GPU.
This is easy when you get to this budget because it's pretty much the same GPU they use for desktops.
So you can go to the Intel's or AMD's website to get the prices. If that does not work a quick google search will give you the retail price.
| | |
| --- | --- |
| GPU | Cost($) |
| 1650 | ~240 |
| 1660Ti | 335$ |
| 2060RTX | 400$ |

CPU
Not all the prices of the CPUs found in this bracket are found online. 
That's because a lot of them are only available on laptops.
One way to get them is by directly contacting AMD/Intel for a quote on their CPUs as if you want to build your own.
We only had to do that for those in blue. Those in green you can just get them by doing a quick google search or using Intel/AMDs official site.
RAM
RAM is kind of tricky. For one, the prices depend a lot on brand. Two, the price will depend on if it's an external RAM or an "on Board" RAM stick.
Again if you are consistent with these prices you should be fine. These are the prices of the most widely used sticks on gaming laptops.
| | |
| --- | --- |
| Name | Price |
| 16GB | 60$ |
| 8GB | 30-35$ |
| 4GB | 20$ |
Do not try to separate onBoard RAM and external RAM, we already did that here. For example, 8GB is onBoard and 16GB is not all on Board (8GB onBoard + 8GB external).
Storage
LikeWise storage prices can be really hard to estimate because there's external storage and on Board Storage.
A good rule of thumb is that any laptop with 512GB PCIe NVMe or 256GB PCIe NVMe has it all onBoard unless it's explicitly mentioned by the manufacturer it is not (it will most likely be because making not onboard and splitting just makes it more expensive to manufacture.
| | |
| --- | --- |
| Name | Cost |
| 128 GB NVMe | ~30$ |
| 256GB NVMe | ~40$ |
| 512GB NVMe | ~64$ |
| 256GB SATA III | ~50$ |
| 1TB HDD | ~50$ |
There are cases when you get something like a 256GB/512GB NVMe + 1TB HDD or a 512GB PCIe NVMe + 512GB/25GB SATA III SSD.
Use these:
| | |
| --- | --- |
| Name | Additional(Total) |
| 256 GB NVMe+256GB SSD SATA III | ~$30(70) |
| 512GB NVMe + 256GB SSD SATA III | ~$50(114$) |
| 512GB NVMe + 1TB HDD | ~$40(104$) |
| 256GB NVMe + 1TB HDD | ~40$(80$) |
Display
There is far more than 20 different displays on laptops but for gamers we only have to focus on 10 or so and out of those 10 you will only find these on gaming laptops under 1000$.
| | |
| --- | --- |
| Display Specs | Price |
| 60Hz IPS TN | 40$ |
| 60Hz IPS FHD | 50$ |
| 120 Hz IPS FHD | 100$ |
| 144 Hz IPS FHD 15" | 150$ |
The first two are super common and you find those on a laptop it better be cheap or it better have other pros on it like a good CPU/GPU combo or far more storage.  
The 120Hz is very common in this 900$ bracket and the last one (144Hz) super extremely rare unless you are giving up some GPU/CPU power. Why? You guessed , it's expensive.
The safest way to get the current prices of laptop displays is using Ali express or just emailing a manufacturer for a quote.
Other Small Parts
This refers to battery, power cord, motherboard and everything else we didn't go over.
I don't advice you to get too scientific with all other parts. It's just time consuming and not productive at all. It's best to estimate all of these together and take the total average price.
Prices here will vary from 100$ to 150$. 
Always use 150$ on this bracket.
EXAMPLE: GATEWAY CREATOR
Core i5 10300H ~ 250$
2060RTX~ 400$
8GB RAM ~ 30$
256GB SSD PCIe NVMe~ 40$
Display ~ 100$
Other small parts~ 150$
Total: 970$
Laptops sells for 900$.