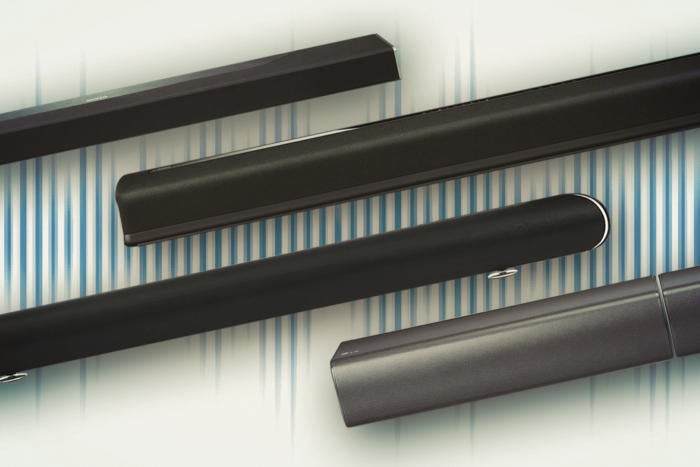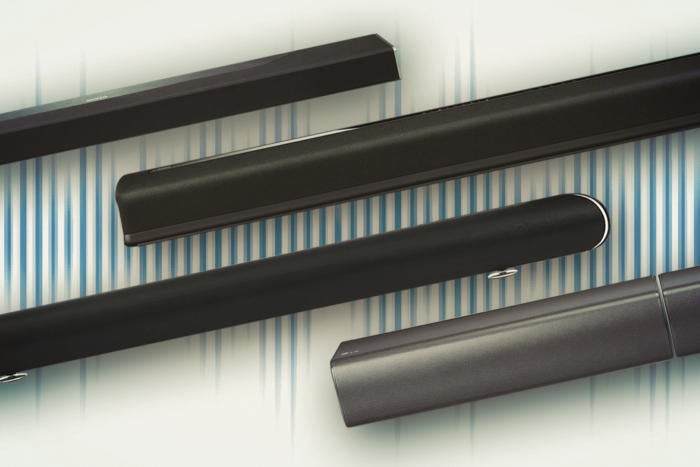 Technology has enabled TVs to become ever flatter, thinner, and lighter, but it can't overcome the laws of physics when it comes to audio. Filling a room with sound requires substantial speakers that can move a lot of air, and those types of speakers just won't fit inside a thin TV chassis. That's where soundbars come in.
We'll explain all the latest soundbar technology, show you the most important features you should look for, and name our top picks in budget, mid-range, and high-end categories. We'll also provide links to all our reviews of soundbars currently on the market, so you can find exactly the right one for your needs.
Updated on October 15, 2021 with our full review of the second-gen Sonos Beam. While the refreshed Beam looks nearly identical to its predecessor and contains the same driver configuration, it adds a couple of key features: Dolby Atmos and eARC support. The new Sonos Beam replaces the original as our runner-up pick for best mid-range soundbar. 
Here are our current top picks, with brief summaries explaining our reasoning. These will change over time as new models come in for evaluation. Our soundbar reviews will go into some depth, so we encourage you to follow the links to read them in their entirety. Beneath our top picks you'll find some general guidance about soundbars, followed by explanations of the features you should consider when choosing one.
Links at the bottom of the page will take you the rest of our soundbar reviews.
Best budget soundbar
Denon is known for manufacturing premium home-audio gear with price tags to match, but the Denon DHT-S216H delivers a fabulous audio experience for not a lot of money, plus it supports DTS Virtual:X to add an immersive quality to movie soundtracks. This soundbar produces very good bass response, too, but Denon also gives you the option to add any wired subwoofer you'd like if you want to kick low-frequency effects up a notch.
Runner-up
If you're strapped for cash but long to improve both your audio and streaming experiences, take a look at the Roku Streambar. It's stronger in the latter category than the former, but its $130 price tag makes it a very strong value.
Best mid-range soundbar
Vizio's M512a-H6 soundbar delivers powerful, vibrant sound for a reasonable price, complete with Dolby Atmos and DTS:X support, an easy setup process, and plenty of adjustments for tinkering with audio settings. There's no Wi-Fi support, but that's not unusual for a soundbar in this price range.
Runner-up
The second-gen Sonos Beam is our runner-up pick for best mid-priced soundbar. A powerful speaker for its size, the refreshed Beam adds Dolby Atmos and eARC support, and you can expand it into a full-fledged 5.1-channel system by adding a wireless sub and wireless surround speakers. The Beam also has built-in support for your choice of Amazon Alexa or Google Assistant, so it can become a key element in your smart home system. Apple fans, meanwhile, will appreciate the Beam's support for AirPlay 2. 
Best high-end soundbar
Samsung keeps upping the ante when it comes to high-end soundbars, and the 7.1.4-channel HW-Q90R is its most luxurious, complete with four up-firing drivers, support for Dolby Atmos and DTS:X, and rich, deep, and detailed audio with an expansive, enveloping soundstage. Yes, the lack of a night mode or room correction is a bummer given the eye-popping price tag. But at the end of the day, it's all about the sound, and the HW-Q90R doesn't disappoint.
Runner-up
Vizio came up with a truly innovative alternative to installing speakers in your ceiling to enjoy immersive Dolby Atmos and DTS:X object-based soundtracks. In addition to building up-firing drivers in its soundbar and surround speakers, the drivers on the soundbar are motorized and automatically rotate up when the speaker detects the appropriate type of audio signal. When you want to hear stereo, these drivers rotate to face forward. We found the included subwoofer to be a bit too much of a good thing, but the Vizio Elevate is one of the most exciting soundbars we've heard in some time.
What exactly is a soundbar?
A soundbar is typically a one- or two-piece speaker system whose primary purpose is to bring quality sound back to modern TVs (two-piece systems include a subwoofer). They're designed to appeal to people who can't (because of the wiring requirements and/or expense associated with traditional home theater audio) or won't (because they object to the visual intrusion an A/V receiver and six or more loudspeaker cabinets presents) install freestanding speakers.
The audio performance of nearly any soundbar will surpass the quality of just about any modern TV while consuming minimal space and requiring little more than a power cord and one or two cables. Soundbars are designed to fit in front of your TV if your TV is resting on a piece of furniture, or beneath your TV if it's hanging on the wall.You can even find soundbars from TV manufacturers that are designed to match the aesthetic of the TV it's paired with.
Nearly all modern TV and movie soundtracks are recorded in surround sound, so most soundbars are equipped to decode at least Dolby Digital and play back discrete left, right, and center channels, plus low-frequency effects (LFE). A great many models include a separate self-amplified subwoofer to handle LFE, which establishes a wireless connection with the soundbar. Purchasing a soundbar doesn't necessarily mean you'll miss out on a full home-theater experience; in fact, some models offer optional surround speakers and others can even support object-oriented codecs, such as Dolby Atmos and DTS:X, that deliver a sensation of height.
What size soundbar should I buy?
Most people buy a soundbar that is either the same width or narrower than their TV, but that really has more to do with aesthetics than audio performance. If your TV is on a piece of furniture, and you're buying a soundbar that will sit in front of it, you need to take the speaker's height into consideration, so that it doesn't encroach on the screen or block the TV's infrared receiver. Sound soundbars include an IR repeater for this reason.
Everything else being equal, the smaller the sound soundbar, the less room it has for larger speakers and features (codec support, wireless connectivity,  multiple inputs and outputs, and so on). That's not to say that a bigger speaker will always sound better than a larger one, of course.
Do soundbars support Dolby Atmos and DTS:X?
Buying a soundbar doesn't mean you need to give up an immersive home theater experience, but be prepared to pay for that feature. Most soundbars are two-channel stereo or left-, center-, and right-channel speakers. Many of these soundbars claim to deliver a true surround-sound experience.
For soundbars to achieve the magic of surround sound, they must rely on the shape of your room, sophisticated digital signal processing, and psychoacoustics. Consequently, your mileage may vary. Some rooms will be more conducive to a good surround-sound experience than others. Some soundbars eschew this artificial processing and offer you the option of adding surround speakers, often wireless ones, to deliver a true 5.1-surround sound.
A few very expensive soundbars (typically starting at more than $1,000) support Dolby Atmos and/or DTS:X object-oriented audio. These soundbars have multiple speakers in the soundbar, some dedicated to left, center, and right channel duty while others handle the surround and height cues. Most soundbars in this class support 5.1.2- or 7.1.2-channel setups, rendering only the front height channels. Once again, you'll need the right kind of room—with the right kind ceiling—to take advantage of an object-based audio soundbar.
Do I need an A/V Receiver?
There are two types of soundbars: active and passive. An active soundbar is more or less self contained. It has its own amplifier, digital signal processing, and volume control, all in the same cabinet as the speakers. Some active soundbars can even accommodate multiple HDMI sources. If you choose a model with HDMI support, make sure it also supports the audio return channel (ARC), to reduce the number of cables you'll need between the soundbar and your TV.
A passive soundbar relies on the amplifier in an A/V receiver, just like a traditional loudspeaker. You connect the audio output from your TV (along with your Blu-ray player, media-streamer, and other components) to the A/V receiver's inputs and the passive soundbar to the A/V receiver's loudspeaker connections. The A/V receiver amplifies the signal and sends it to the speaker.
Onkyo
Soundbar features you should look for
Sorting through different soundbars can be a dizzying experience. Here's an alphabetized list of some of the most important features you'll encounter
App control: If you want to control everything from your smartphone or tablet, you'll want to know if the manufacturer offers an app for your mobile operating system of choice.
ARC: The acronym stands for Audio Return Channel. First introduced with HDMI 1.4, ARC enables your TV to send its audio output back through the HDMI cable to your soundbar or A/V receiver. This is especially important if you're using your smart-TV's onboard tuner or any of its media-streaming apps (Netflix, YouTube, Vudu, etc.). A newer variant, eARC (enhanced audio return channel) provides more bandwidth than the original ARC, enabling it to handling lossless high-resolution audio, including Dolby True HD and DTS:X. This article provides in-depth explanations of both HDMI ARC and HDMI eARC.
Dialog enhancement: If you find yourself turning on closed captions because you can't make out what people on your TV are saying, you might want to invest in a soundbar that offers dialog enhancement. This feature uses an algorithm that identifies frequencies commonly associated with speech and runs them through a digital signal processor to make them easier to distinguish from sound effects, music, and other background audio.
Just want to see a list of our latest reviews? Click here to go there. 
Dolby Atmos and DTS:X: Some of today's top-of-the-line soundbars will let you take advantage of the latest object-oriented audio technologies, such as Dolby Atmos and DTS:X.  Soundbars that feature object-oriented audio, are typically limited to 5.1.2 or 7.1.2 configuration, where they only reproduce the front two height effects channels. (A 5.1.2-channel system has front left, center, front right, left surround, right surround, subwoofer, left height, and right height. A 7.1.2-channel is the same configuration plus left rear surround and right rear surround.)
EQ: Some soundbars have onboard EQ (equalization) to help tune the soundbar for a particular placement, such as on the wall or in a cabinet. The EQ adjusts certain sonic characteristics that happen to the speaker in a typical scenario, but don't confuse EQ with room correction. Room correction far more sophisticated.